Interview with Baby Dee and a live concert of her new album "I am a Stick"
The American singer-songwriter Baby Dee is a charming Grande Dame, whose previous life includes being a church organist, a street musician and man. In the 90's she was part of the New York art scene around Antony Hegarty (Antony and the Johnsons), where she initially played the harp. Her songs are a bizarre mix of ancient hymns, vaudeville songs, bilious murder ballads and beautiful odes to nature. Her binding texts are warm and full of stories, occasionally interrupted with a guffaw.

Among her many admirers are Will Oldham, Matt Sweeney, David Toop and Andrew WK. Baby Dee comes to Netwerk with "the best of bands", including Alex Neilson (The Trembling Bells) on drums, Victor Herrero (Josephine Forster) on Spanish and Portuguese guitar, Joe Carvell on bass and Dee herself singing at the grand piano.
Thanks to Baby Dee, Rich from Tin Angel Records and the Netwerk crew for there collaboration.
Early career
In the 1970s, Baby Dee began her musical career as a street performer, but soon decided to take work as an organist at a Catholic church in the Bronx. Ten years later, after Dee had begun her transition into life as a woman, she left her job at the church and returned to her earlier occupation as a performance artist.[2] She performed as an accordion-playing bilateral hermaphrodite in Coney Island leading to a stint as the bandleader for the Bindlestiff Family Cirkus. She also became known for a street act in which she played harp atop a high-rise tricycle in Manhattan.[1]
In the 90s, Baby Dee met fellow transgender musician and performance artist Antony Hegarty. The two became friends, and Hegarty later invited Dee to perform harp on her 1998 debut album, Antony and the Johnsons.[3]During this time, Dee returned to her childhood home in Cleveland and took up work as a tree surgeon.[4] Never having envisioned herself as a recording artist, Dee gave Hegarty songs she had written in hopes that she would perform them. Hegarty, instead, sent them to her friend David Tibet, founder of the music group Current 93. Tibet contacted Dee encouraging her to record an album for his label, Durtro.[3]
The Durtro Years: 2000-2006[edit]
In 2001, Baby Dee released her debut album, Little Window. The album was composed and produced by Dee and featured only her, singing and playing piano on seven songs bookended by two accordion instrumentals. Though the album went largely unnoticed at the time of its release, the few reviews it did receive were often positive.
Dee released her second album, Love's Small Song, in 2002. This album was recorded in much the same fashion as the first, with Dee acting as the sole producer, composer, and performer. This time, though, the album contained more varied instrumentation with layered tracks of vocals, piano, accordion, and harp. Dee even set the entire album against a recording of birdsong. Still, while the album received a few very positive reviews, it, too, garnered little attention.
In 2007, the out-of-print albums Little Window and Love's Small Song along with Made for Love, a 2005 three-song EP, were re-released in a 2-CD compilation entitled The Robin's Tiny Throat.
Drag City: 2007-Present
By 2006, Baby Dee had grown tired of recording and returned to private life at her Cleveland home. Unfortunately, Dee's tree climbing career was cut short when a tree she was doctoring fell on a customer's home.[4] The incident left Dee jobless and in need of money. Soon though, Dee came into luck when she met musicians Will Oldham and Matt Sweeney who were both fans of her work. They offered to produce an album for her, and, while initially hesitant, Dee soon agreed.[5]
In 2008, Dee released her third official studio album and debut for Drag City, Safe Inside the Day. The album was her first to feature collaborators. Other performers included producers Oldham and Sweeney and fellow eccentric personality/singer-songwriter Andrew WK. The album garnered significantly more attention than its predecessors and was well-reviewed by most.
In 2010, Dee released her fourth album, a re-recording of a limited-edition book and CD entitled A Book of Songs for Anne Marie released by Durtro in 2004. The recording significantly expanded on the original version adding chamber orchestration and three additional songs. The album also featured Dee, for the first time, predominantly using harp as opposed to piano. Following in the path of Safe Inside the Day, it gained the artist further visibility and recognition. It was released on the Drag City label in America and on Tin Angel Records in the UK.
In 2011, Baby Dee released her fifth album, Regifted Light. The album was recorded in Dee's home and produced by friend and collaborator Andrew WK. It featured mainly instrumental tracks performed on a Steinway D grand piano with a small backing band.
Collaborations
Baby Dee has worked with Antony and the Johnsons, Andrew WK, and many other artists on the New York City scene. She has toured extensively with Current 93, playing piano and harp. She has also toured with Marc Almond and The Dresden Dolls. In 2010 she toured with Little Annie.
Personal life
Assigned male at birth, Baby Dee is a transgender woman.
Discography
Albums
· Little Window (Durtro, 2001)
· Look What The Wind Blew In (Durtro, 2001)
· Love's Small Song (Durtro, 2002)
· A Book of Songs for Anne Marie (Durtro / Jnana, 2004)
· Safe Inside the Day (Drag City, 2008)
· A Book of Songs for Anne Marie (Re-Released) (Drag City / Tin Angel, 2010)
· Regifted Light (Drag City, 2011)
EPs
· Baby Dee (Durtro, 2001)
· Made for Love (Durtro / Jnana, 2005)
· The Robins Song (Durtro / Jnana, 2008)
Compilations
· The Robin's Tiny Throat (Durtro / Jnana, 2007)
Live Albums
· Live in Turin (Precordings, 2006)
· Love Is Stronger Than Death / Baby Dee & John Contreras (Bragagild, 2008)
· Baby Dee Goes To Amsterdam (Tin Angel, 2011)
Singles
· "The Robin's Tiny Throat" - Little Window
· "Calvary" - Little Window
· "So Bad" - Love's Small Song
· "Dance of Diminishing Possibilities" - Safe Inside the Day
· "Safe Inside the Day" - Safe Inside the Day
· "As Morning Holds A Star" - A Book of Songs for Anne Marie
· "Regifted Light" - Regifted Light
Artist Biography by James Christopher Monger
Performance artist, songwriter, classically trained harpist, circus sideshow veteran, and transgender street legendBaby Dee was born in 1953 in Cleveland, OH. She spent ten years as music director and organist for a Catholic church in the Bronx before joining the circus as the bilateral hermaphrodite at Coney Island. This landed her a gig as the bandleader for performance art group the Bindlestiff Family Cirkus and a tour with the Kamikaze Freak Show in Europe. After moving back to New York City, she became a fixture in lower Manhattan with a street act on a high-rise tricycle with a concert harp. She recorded her first record, Little Window, on the Durtro label in 2000, a four-track EP in 2001, and her second full-length, the double-disc Love's Small Song, in 2002. Dee returned to Ohio during the latter record's recording, taking vows as a novitiate of the Little Sisters of Crabby Doom (a Cleveland-based order dedicated to the care of smelly old men), vows that she has since forsaken. For her third full-length recording, Dee recruited a typically eclectic army of fellow musicians, including Will Oldham, Andrew W.K., Robbie Lee, Max Moston(Antony and the Johnsons), Bill Breeze (Psychic TV), John Contreras (Current 93), James Lo(Chavez), and Lia Kessel. The resulting Safe Inside the Day arrived in January 2008 on Drag City Records. In 2010, Dee released A Book of Songs for Anne Marie, a lovingly detailed and orchestrated collection of harp and piano-based ballads. It was followed in 2011 by the Andrew W.K.-producedRegifted Light, which followed a similar course as its predecessor, though with a greater emphasis on instrumentals.
There have been many wild and wooly characters in the history of rock and pop music, but none wilder or woollier than a transsexual artist named Baby Dee. Her unusual life and career have led to her latest record —Safe Inside the Day.
Dee launched her musical career as a harpist in New York's Central Park in a bear costume. She says, "I just had this fuzzy picture in my mind of something sort of festive playing a harp. I don't know, it just sort of came to me."
She was a street performer, but Dee also studied music seriously and was so obsessed with Gregorian chant and the Renaissance that her conducting teacher suggested that she learn to play the organ and get a job in a church. Dee thought that was sensible advice. She'd been playing religious music for years, but the idea of working in a church had never occurred to her. "Within weeks of him saying that, I had a big job up in the South Bronx that became what I thought would be my life's work," she says.
What eventually changed Dee's mind about her life's work at the church was her sexuality. Dee is a transsexual, and after years of living what she says was a life of pretense as a man, she finally made the decision to become a woman.
Dee says the sexual transformation, for which she had such great hopes, was emotionally devastating: Everywhere she went, she was the constant object of staring and commentary. "You can go through a thing like that," Dee reflects, "and instead of having it make you better, it can just embitter you."
After leaving her work at the church, Dee went back to street performing. But she changed her style, because "it was like, if people are going to look at me all the time, then I was going to give them something to look at, and I was going to look back at them, too. There was an attitude there."
She also ended up working in side shows on Coney Island: "I was the Bilateral Hermaphrodite. I worked in circuses, like the Bindlestiff circus [and] the Kamikaze Freak Show."
Dee grew up in suburban Cleveland across the street from two guys named Bobby Slot and Freddie Weiss. In the song "The Dance of Diminishing Possibilities," on her new record, Safe Inside the Day, she tells the story of the day they decided to smash their old upright piano in the front yard. Dee was only 4, but she remembers vividly how the occasion turned into a kind of block party, with all of the neighborhood men joining in the demolition.
"What I learned was that inside the piano is a cast-iron harp that's very hard to wreck. You can't just hit it — you have to saw away at it with a hacksaw, and that wasn't very fun for them. So everything else went to bits, but that cast-iron harp inside sort of stayed. And the garbage men wouldn't take it, and it sat on their front lawn for months. And I fell in love with it."
In the song, the harp inside the piano serves as a metaphor for Dee's metamorphosis.
About eight years ago, Dee left New York and moved back to Cleveland to look after her ailing parents. Safe Inside the Day is a happy career resurrection. The producers, intense folkie Bonnie Prince Billy and guitarist producer Matt Sweeney, urged Dee away from her trademark harp and toward her piano music. The resulting songs burrow into some of the hard terrain of Dee's Cleveland childhood and then use it to reflect on the unusual twists and turns of her adult life. In that process, she manages to grow a kind of sinewy, deceptively simple poetry that matches her fragile emotional core with bursts of toughness and joy and artistic fearlessness.
Dee is not afraid anymore, if she ever was, to sound weird or out of the ordinary. She sings her outsized personality, and in turn, her pain and her tremendous warmth and quirkiness all come bouncing and shining through.
Juxtaposing odes to pie with poems about slugs: TLOBF meets Baby Dee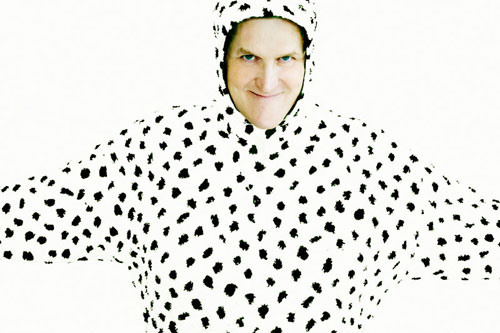 Performance artist, harpist and pianist Baby Dee has just released her most recent and most experimental LP to date, Regifted Light. In equal measures classically medieval and brilliantly absurd, it is like nothing else on the record shelves, juxtaposing odes to pie with poems about slugs. Yes, really. Sharon Kean caught up with the singer and instrumentalist while she was in the UK to perform with Marc Almond, to find out more about the musician who until lately was better known for her work with fellow New York based artists, Antony and the Johnsons and Andrew WK.
How would you describe your music? It's not really like anything else, is it?
No, it's not and I don't describe it because every time I try to I end up regretting having tried. It's a losing proposition. You do it – it's your job!
OK, you clearly have some very classical influences, hymns and holiness, perhaps?
Probably the hymn is one of the biggest influences of all. One of the earliest things I was really interested in and became completely obsessed with was Gregorian music. Which was strange because I really wasn't a churchy sort of person, but there was something about that music, the simplicity, the complexity and the richness of it. I was totally fascinated. It is every bit as grand in terms of emotional scope as a Beethoven symphony or a Mozart requiem. It's huge yet it's just a couple of little notes. At the same time I became obsessed with the miracle of the printed page in terms of music, because you have these vowels and a couple of words in Latin. I would read them phonetically and it would be like having a wild animal in your house, it's alive and it's scary. It's like when a fire starts, suddenly there's a piece of music and it's like a fucking miracle, it's a profoundly beautiful thing.
Where did you first hear medieval music – it's not on the radio a lot, is it?
I wanted to be musically literate, so I took a class at the Mannes College of Music in New York City in counter point – a musical theory that instead of teaching in terms of blocks of chords, is in terms of lines – it was an important thing in the 1500s, so I got really interested in that.
What instruments were you playing at that stage, and which ones are most important to you now?
At that time I played the piano and had also taken up the harp. I'm a fickle lover – my favourite is the one that I love at the moment. For the last two or three years it was the piano because I had this magnificent Steinway Grand in my house. It's not mine – it's Andrew WK's – but it's in my house, which is like someone giving you the keys to their Rolls Royce. I really enjoyed it and that was the sound that completely ruled my life for the last three years. Now it's changing a little bit – I want to play the organ again.
Your last albums, Safe Inside The Day (2008) and A Book of Songs For Anne Marie (2010) seemed far less disjointed than Regifted Light. How does this one fit in and how did you get from the last record to this one?
Slowly! The last album was one of those life-work things, it took years and it was like a whole can of worms for me because I wrote it ten years before it actually came out. I put it out in an unfinished slap dash kind of way, on purpose, thinking that might help in some sort of way. It was about when I was messed up in my life and what was important to me. It was a very serious record, more serious than any of my other records.
Regifted Light has its serious moments, but they seem to be mixed with utter absurdity. For example, 'The Pie Song', what's that all about?
It came from my stupid mind. I like pies – and it stands out on the album. It's really about the language as much as the pies. I like the directness of the language and the idea of the intentness of a desire for a particular thing and the absurdity of it. There's bunch of ways that you could say you wanted a pie but I like that you can say "give me that pie / I want that pie / give that pie to me / I must have that pie". You know, ever since I wrote that lyric – if you can call that 'a lyric' – everytime I go to a restaurant and somebody asks 'would you like a salad?' I think 'yes / give that salad to me / I want that salad / give me that salad / I must have that salad'. It's kinda like a habit of speech now.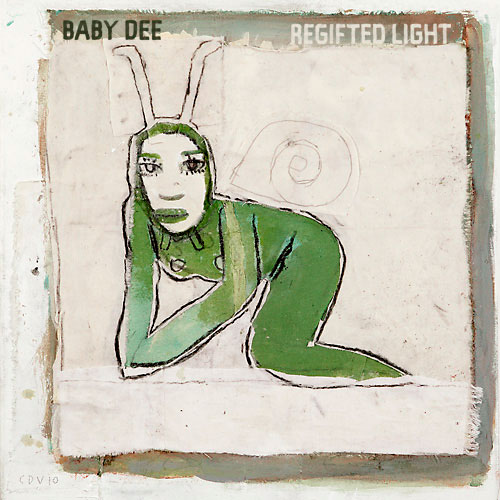 It's not a very serious song, is it? How does it sit with the more serious songs on the album?
The whole thing about an album is that you should be able to encompass a huge amount of emotional space. Most don't – they're all pretty much in the same space and a lot people kinda like that. They want to know what to expect and they want the whole album to feel the same. I don't get that – I like to think that albums can be more alive and spontaneous and more real life. I like the scope of things, the extremes. But some people have a huge problem with that. They feel betrayed when they open up emotionally to take something in and really take something to heart, and then you do something stupid. They feel like the artist has betrayed them. Some people really hate that. My last album was totally straight and all in that emotional space, so that's allowed too.
Have you played live any of the songs from Regifted Light?
I've played a few of the songs live. I've played 'The Pie Song' a few times.
What sort of reaction does that get?
Mostly laughter – people can relate to it because most people like pies. I had this idea that there are two types of people in the world – pie people and cake people – and that the world was going to end in a cataclysmic struggle between those two groups. But it turns out that pie people and cake people kinda like each other, so it's not a problem. Deep down most cake people like pies too.
How does it feel playing songs from the new album?
Different to the last album. I'm not sure but for some reason I want to play the whole album, you know, start with the first song and play it through and I've never ever done that before. We're gonna tour it in the States in May and try that. We're doing a two-week thing with the original members of the band that recorded it in my house. We're even doing a house concert in my house in Cleveland with the same people – that's going to be really cool. We can probably pack around thirty people in. I'll be in the dining room playing the piano, and through the kitchen door I'll see a sousaphone player and there will be all these other people around…
Will you be touring in the UK?
We're gonna tour it here in the fall, in Europe in September and later in the fall, maybe October, in the UK. I had a great show at Shoreditch Church last September. I guess the best you can ask for is that people get it and they somehow let you know that. You can't ask for more than that – it's a wonderful thing.
A lot of people associate you with Antony and the Johnsons, because of your work with him. How much of an influence is that on your music?
It's not so much a matter of people influencing each other, but more that like-minded people are sort of drawn to each other. I think Ant and I do have things in common but we are really, really different. I like Ant's music and I like him and the things that he stands for, but he is different to me. He also has one of the best voices of our time and I don't, so I don't like being compared to him! It makes me look bad because he has such a beautiful voice and I have a horrible voice. Every now and then you get a reviewer who makes a big deal of it and I find that annoying, but it's not that big a deal. You'd be surprised how little of that I get.
How did you meet?
I had a job dancing on the bar at the Pyramid Club in New York, at one of those trannie nights. Antony had done wonderful things at the Pyramid with a group called Black Lips, a few months before I arrived on that scene, and that's where we met. We sort of knew each other and it wasn't long after that he got some sort of grant and used the money to record his first album. He wanted me to play harp on it. A lot of people make the mistake of saying I did strings arrangements for him, but I didn't arrange anything. Antony knew in his head exactly what he wanted to hear.
At that stage you hadn't recorded any of your music – was working with Antony what spurred you on to do it?
When I started writing I didn't want a career. In fact as soon as I started writing serious music I retired. I didn't record anything but I wrote songs and sent them to Antony – because I figured, you got to do something with them. So I sent them to him, just in case, thinking he might sing them. That was around the time his first album was released by David Tibet (of Current 93) here in England. Ant sent what I sent him to David, and he wanted to put out a record.
So, what's next – are you going to write more songs and record another album?
It's funny, actually, I haven't even told the people I want to do it with yet. I'm gonna get a Hammond B3 organ and I want to do another album with Andrew WK but with him playing the piano and I'll play the organ. And I want to work with a friend of ours, Armen Ra, a really great theramin player.
Extravagant humanity: Baby Dee
Baby Dee's new album is an exquisite blend of Tom Waits and Judy Garland. She talks to Ben Thompson
'Sometimes I worry that I've become addicted to upheaval," says Baby Dee, torch singer, native of Cleveland, Ohio, and former harpist for Mercury Prize-winner Antony and the Johnsons.
"It made the sex change seem like nothing," she explains, bringing all surrounding conversations in the back room of a London pub to an abrupt halt, "when I gave up music and became a tree climber." The booklet that accompanies Dee's new album, Safe Inside the Day, features photographs of an idealised detached house, reminiscent of the one that adorns Kate Nash's chart-topping debut, Made of Bricks. But the world that opens up when you venture inside is about as far from Nash's prosaic suburban dreamland as it is possible to get.
To say that this record is the work of a fiftysomething transsexual ex-tree surgeon ("tree climber" is the American designation) is merely to sketch the barest outline. To add light and shade to the picture, you'd have to factor in Baby Dee's abiding love for bees, her formative obsession with early church music ("If it happened after 1600, I had no interest in it whatsoever"), her showbiz apprenticeship playing the harp in a bear costume on a specially adapted tricycle, and that difficult summer as a carnival turn on Coney Island.
Perhaps the most amazing thing about Safe Inside the Day is that the power of its songs and the extravagant humanity of its performances transcend even Baby Dee's incident-packed life story. The exquisite title track somehow brings together the very different worlds of Tom Waits and Judy Garland. The darkly ribald Big Titty Bee Girl (From Dino Town) is the missing link between Bertolt Brecht and The Rocky Horror Picture Show. And the whole album somehow manages to be beautiful and defiantly ugly at the same time.
Dressed in a purple towelling robe and heavy workman's boots, Baby Dee has every bit as colourful a personality as sing-a-long choruses such as Bee Girl's "You can't keep a good albino down" would lead one to expect. It turns out that she does actually live in the tranquil-looking residence on the album cover.
"It's the place I grew up in," she says, "just a dumpy little house on a dumpy little street. But I guess anything looks nice with a harp in the window." Her family moved to this relatively respectable neighbourhood when she was five or six, but it's her memories of the place they lived before that - a rough-and-tumble locale on the wrong side of Cleveland's central ravine - that supplied the bulk of the inspiration for Safe Inside the Day.
The album looks back at the mythical landscape of early childhood through the filter of Baby Dee's subsequent experiences. This approach yields its most dramatic results in a song called The Dance of Diminishing Possibilities, which begins with a couple of local characters called Bobby Slot and Freddy Weiss deciding to smash up their old upright piano.
While the whole neighbourhood joins in the ensuing festival of vandalism, the infant Baby Dee watches the piano's indestructible cast-iron frame emerge from its carapace of splintering wood. As the striking line "There's a harp in that piano/ And there's a girl inside that boy" suggests, this eerie tableau not only supplied a vision of the musical instrument that would ultimately be Baby Dee's salvation, it also prefigured her subsequent physical transformation. Did she understand that at the time?
"I always had the feeling," she nods. "But you can see a thing as a true thing, you can take it in, you can even know it's true, and yet you might not know that it's OK for it to be true. It was more than 30 years till that happened."
Among the numerous character-building experiences Baby Dee went through along the way was a season as a Coney Island sideshow. "They billed me as 'The Bilateral Hermaphrodite'," she remembers. "My job was to pick out the most threatening man in the whole place - the one who hated my guts the most - and say: 'You're not going to be able to see from way back there, sir.' The more they booed, the better the act was."
With her surgical procedures completed in the mid-Nineties, Baby Dee moved back home to Cleveland and started recording her own songs. Despite benefiting from the patronage of kindred spirit Antony Hegarty (of Antony and the Johnsons), on whose first album she played the harp, she was at this point living as a virtual recluse. Then came the job as a tree surgeon. "The cool thing was it was totally self-obliterating. I actually dressed up like a guy - and believe me, this is a big deal for a tranny. But no matter what I wore - the big bulky jacket, the hard hat - those lumberjacks were the only bit of male society that's never had any problem treating me like a woman."
Baby Dee's anecdotes simultaneously suggest one of Ronnie Corbett's extended monologues and the dreams in a psychoanalyst's textbook. She does not discount the obvious Freudian interpretation of her tree-felling activities. But it was only once her arboreal idyll came to an end - after an unfortunate incident with a sudden change of wind direction and a tree falling on a house (the occupant emerged to console a weeping Dee with the words "Everything happens for a reason") - that the final pieces of the Safe Inside the Day jigsaw fell into place.
Unemployed and broke (she had to pay for the ruined roof with her own money), Baby Dee had no option but to embrace her musical destiny. A support slot with alt-country maverick Bonnie "Prince" Billy and guitarist Matt Sweeney led to this illustrious duo offering to produce her.
Thanks to their sympathetically nuanced arrangements, Safe Inside the Day is the most remarkable record of the year so far, and it'll be a great surprise if that estimate has to be revised in 10 months' time.